Your smile is one of your most important features. Dentistry is continually evolving, and with a variety of advanced treatment options, achieving a beautiful, healthy, aesthetic smile is made easy for patients of all ages.
Are you ready for a smile makeover?
If you're considering cosmetic dental treatment, ask yourself a few simple questions:
Do you hesitate when you smile?
Would you like to increase your self-confidence?
Do you want to look your best in social or professional situations?
Are you ready to reverse any dental imperfections you may have?
If you've answered yes to any of these questions, cosmetic dentistry may be the answer you've been looking for!
Cosmetic Dentistry is an Art and a Science
Let us help you achieve your smile goals! Cosmetic dentistry is different from general dental care; it is both an art and a science. By providing cosmetic dental care, your dentist is able to offer smile enhancement, restoration, and maintenance treatments for optimal dental health. Using cutting-edge techniques and advanced materials, our office proudly offers you a beautiful, natural smile and all the benefits that come with it.
Feel more confident about your appearance with a new smile that is as beautiful as it is healthy. You no longer have to suffer from missing, chipped, discolored, or crooked teeth. Contact our practice today and schedule your smile makeover!
Porcelain Veneers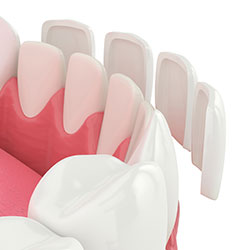 You no longer need to hide your smile because of gaps, chips, stains, or misshapen teeth. With veneers, you can easily correct your teeth's imperfections to help you have a more confident, beautiful smile. Veneers are natural in appearance and are a perfect option for patients wanting to make minor adjustments to the look and feel of their smile.
Veneers are thin, custom-made shells made from tooth-colored materials such as porcelain. They are designed to cover the front side of your teeth. To prepare for veneers, your doctor will create a unique model of your teeth. This model is sent to a dental technician who creates your veneers. Before placing your new veneer, your doctor may need to conservatively prepare your tooth to achieve the desired aesthetic result.
The Procedure
One of the most important steps in the process is your initial consultation. The Doctor will take the time to understand your goals and explain what can be accomplished. Often times study models and photos of your teeth will be taken in order to plan your beautiful smile. Once you and the doctor have decided that veneers are right for you, the next step is preparing your teeth. A thin layer of enamel may be removed, and impressions will be taken. You may be provided with temporary veneers while the permanent ones are being fabricated.
It will take about two or three weeks for your new veneers to be created. When they are ready, we will schedule your next appointment. Before bonding them, the doctor will check the color, shape, and fit. If adjustments are needed, he will carefully sculpt the veneers. Dr. Wheeler and Dr. Eroen are known for there expertise in creating great smiles and with there knowledge and meticulous attention to detail can provide a great lasting and beautiful smile.
Teeth Whitening
There are many products and techniques available for patients who want to achieve a brighter smile, and with so many options available, it can be difficult to choose the method that is right for you. The best way to begin any teeth-whitening regimen is to schedule an appointment and talk to your doctor about the differences between in-office professional whitening and at-home whitening.
In-Office Teeth Whitening
The first professional option is commonly referred to as in-office whitening. This procedure is performed in a dental office. During an appointment, your dental professional will apply a whitening gel to the surface of your teeth. The entire office visit generally takes about 90 minutes and you will be able to see results immediately.
At-Home Teeth Whitening
Tray Whitening
Tray bleaching is a type of professional whitening that uses custom-made trays and whitening gel only available through your dentist. The whitening gel is placed in custom-fitted trays that fit perfectly over your teeth. As the peroxide in the gel breaks down, hydroxyradicals help whiten stained teeth. Unlike strips, this process whitens all your natural teeth and may contain ingredients intended to provide maximum comfort. At-home professional tray whitening generally takes ten to 14 days, although you may notice results in as little as three to five days.
Paint-On Teeth Whiteners
There are many over-the-counter teeth whitening options, and one type of readily accessible whitening product is commonly referred to as a "paint-on" teeth whitener. Paint-on whiteners can be purchased over the counter and generally are less expensive and less effective than whitening strips or professional options. Paint-on teeth whiteners consist of a gel that is applied to the tooth using a small brush. Paint-on whitening gel hardens into a film that coats the teeth and dissolves in the mouth. As with any teeth-whitening regimen, it is wise to consult with a dental professional before use.
Teeth-Whitening Strips
Teeth-whitening strips are thin, flexible plastic (polyethylene) strips with a thin film of hydrogen peroxide on one side. Whitening strip kits come with two types of strips: strips for the upper teeth and strips for the lower teeth. The whitening agent is applied by placing the strips across your teeth and gently pressing the strips to ensure contact with all your teeth. Teeth-whitening strips are typically worn for 30 minutes a day, twice a day. The duration of treatment will vary.